---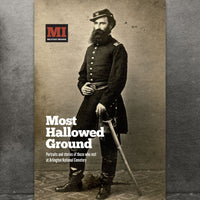 A collection of original, wartime images and biographical sketches of Civil War veterans whose remains rest in Arlington National Cemetery.

More than 30,000 Americans who served during the Civil War are interred in Arlington National Cemetery. Their war experiences are as unique as fingerprints, and their personal stories are entry points into the history of the bloody, brutal conflict that engulfed our nation. When the war ended in 1865, slavery was abolished and much territory in the Southern states lay in economic ruin.
In this booklet, specially selected portraits and biographies of nine veterans, all drawn from Military Images magazine's "Most Hallowed Ground" column, humanizes the conflict and Arlington National Cemetery.
Trim Size: 5.5" x 8.5"
Page Count: 18 pages
Illustrations: 9 color photos