---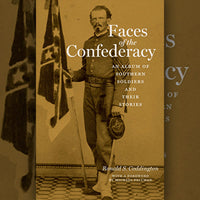 Discover Confederate soldiers who fought for the South during the Civil War through profiles illustrated with original wartime photographs.

"The history of the Civil War is the stories of its soldiers," writes Ronald S. Coddington in the preface to Faces of the Confederacy. This book tells the stories of seventy-seven Southern soldiers—young farm boys, wealthy plantation owners, intellectual elites, uneducated poor—who posed for photographic portraits, cartes de visite, to leave with family, friends, and sweethearts before going off to war. Coddington, a passionate collector of Civil War–era photography, conducted a monumental search for these previously unpublished portrait cards, then unearthed the personal stories of their subjects, putting a human face on a war rife with inhuman atrocities.

The Civil War took the lives of 22 of every 100 men who served. Coddington follows the exhausted survivors as they return home to occupied cities and towns, ravaged farmlands, a destabilized economy, and a social order in the midst of upheaval. This book is a haunting and moving tribute to those brave men.
Like its companion volume, Faces of the Civil War: An Album of Union Soldiers and Their Stories, this book offers readers a unique perspective on the war and contributes to a better understanding of the role of the common soldier.
Trim Size: 5.5" x 8.5"
Page Count: 312 pages
Illustrations: 78 halftones
ISBN: 9780801890192
This copy will be signed by the author. If you have a special request for the inscription, please make it in the notes section.