---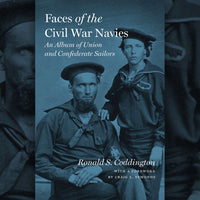 Archival images and biographical sketches of common sailors on both sides of the conflict reveal the human side of the Civil War.

During the American Civil War, more than one hundred thousand men fought on ships at sea or on one of America's great inland rivers. There were no large-scale fleet engagements, yet the navies, particularly the Union Navy, did much to define the character of the war and affect its length. The first hostile shots roared from rebel artillery at Charleston Harbor. Along the Mississippi River and other inland waterways across the South, Union gunboats were often the first to arrive in deadly enemy territory. In the Gulf of Mexico and along the Atlantic seaboard, blockaders in blue floated within earshot of gray garrisons that guarded vital ports. And on the open seas, rebel raiders wreaked havoc on civilian shipping.
In Faces of the Civil War Navies, renowned researcher and Civil War photograph collector Ronald S. Coddington focuses his considerable skills on the Union and Confederate navies. Using identifiable cartes de visite of common sailors on both sides of the war, many of them never before published, Coddington uncovers the personal histories of each individual who looked into the eye of the primitive camera. These unique narratives are drawn from military and pension records, letters, diaries, period newspapers, and other primary sources. In addition to presenting the personal stories of seventy-seven intrepid volunteers, Coddington also focuses on the momentous naval events that ushered in an era of ironclad ships and other technical innovations.
The fourth volume in Coddington's series on Civil War soldiers, this microhistory will appeal to anyone with an interest in the Civil War, social history, or photography. The narratives and photographs in Faces of the Civil War Navies shed new light on a lesser-known part of our American story. Taken collectively, these "snapshots" remind us that the history of war is not merely a chronicle of campaigns won and lost, it is the collective personal odysseys of thousands of individual life stories.
Trim Size: 5.5" x 8.5"
Page Count: 440 pages
Illustrations: 78 halftones
ISBN: 9781421421360
This copy will be signed by the author. If you have a special request for the inscription, please make it in the notes section.