---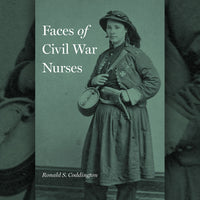 A collection of rare archival images and biographical sketches of the dauntless women who served as nurses and caregivers during the Civil War.

During the American Civil War, women on both sides of the conflict, radiating patriotic fervor equal to their male counterparts, contributed to the war effort in countless ways: forming charitable societies, becoming nurses, or even marching off to war as vivandières, unofficial attachés to the regiments.
In Faces of Civil War Nurses, Ronald S. Coddington turns his attention to the experiences of 77 women of all ages and walks of life who provided care during the war as nurses, aid workers, and vivandières. Their personal narratives are as unique as fingerprints: each provides a distinct entry point into the larger social history of the brutal and bloody conflict. Coddington tells these determined women's stories through letters, diaries, pension files, and newspaper and government reports. Using identified tintypes and cartes de visite of women on both sides of the war, many of them never before published, Coddington uncovers the personal histories of each intrepid individual. Following their postwar stories, he also explains how the bonds they formed continued long after the cessation of hostilities.
The fifth volume in Coddington's series on Civil War soldiers, this captivating microhistory will appeal to anyone with an interest in the Civil War, women's studies, social history, nursing, or photography.
Trim Size: 5.5" x 8.5"
Page Count: 424 pages
Illustrations: 79 b&w photos
ISBN: 9781421437941
This copy will be signed by the author. If you have a special request for the inscription, please make it in the notes section.